Our foundational programme for teaching ambitious people how to transition out of employment and into self-employment.
4 modules to be completed at your own pace within a workbook with both theory and practical exercises
Online - you'll receive your own log in to the programme area & video content
3x 1hr one-on-one mentoring sessions on zoom and fortnightly group webinars
There is a lot of uncertainty when starting a business - whether your startup idea is a good one, how to get customers, when to quit your job, how to make money etc. Good advice that's focused on the early stages of developing an idea can be hard to come by and the journey can be lonely. This is why we've created this programme.
To give people with ideas access to good advice, a process to work through and the support of a like-minded community. 
Work through the programme at your own pace and watch the videos whenever, wherever. These videos were created specifically for this programme so you can expect tailored advice and in easily consumable doses.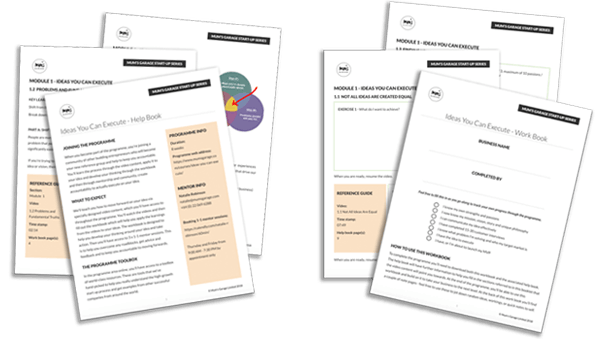 Two documents are available for you to print, download or digitally work through so you can take action whilst you learn and you'll have rich content that will feed into your business plan, website, brand and product development.

One-to-one mentor support
You'll receive three one-hour sessions with a mentor who is dedicated to helping you succeed with your startup idea. They are there to help you overcome roadblocks, give specific advice for your idea and give you motivation/inspiration if you're feeling deflated and above all, keep you accountable to make sure you leave this programme with the outcome you desire.

Fortnightly group webinars
We run fortnightly online group video chats where you can see and speak to your mentor as well as the other members on the programme. This is optional but it does give you a chance to see where the others are up to, how they're facing the challenges you are and to help keep you motivated to hit your targets. We'll also do meet-ups from time to time so you can make meaningful connections too.

Supportive online community
When you join this programme we also provide you with 3-months of free access to our Mum's Garage community, hosted on Mighty Networks, a place where people can come together and support each other on their journeys of and to entrepreneurship. Within this community, you'll be added to a space with the other IYCE participants so you can take the journey together.

Turn your idea into something you can move forward on.
Learn about becoming better at coming up with ideas that are viable for you, build logical thinking into the way you assess ideas and understand your strengths, passions and the problems you care about so you have a starting point for developing your ideas.
Learn the process of building a startup. When people don't follow a process, often they either don't get started or risk building a product they can't sell.
Understand the process of startup creation, develop the abilty to communicate your idea in a compelling way and learn the basics of market validation.
Starting a business is hard when you've never done it before and haven't developed the belief system and condfidence to do the things that need to be done.
This module sheds light on the mindset behind entrepreneurship, including the myth that holds a lot of people back, self-belief and reinvention (fast-learning and development) as well as high performance, productivity and resilience.
Find out about what you do and don't need to be worrying about when starting out. This module covers setting yourself up for success so you don't slip back into your previous routines, habits and mindset.
Learn the process of building a startup, get support and guidance on some of the decisions that can make starting out hard (including when to quit your job) and access a heap of resources that will enable you to hit the ground running including how to set up your company and launch your website.
Total Cost: $550 NZD (incl GST) or 3 monthly payments of $183.33 NZD
Not sure if this programme is right for you or where you're at? Try out a sample of the programme for free first or you can book a free chat and we'll figure it out together.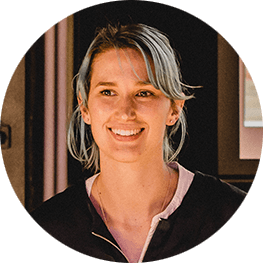 I'm not sure this is right for me
Great, we'd love to chat and help you work out if this is the right programme for you. Book a free 15-min chat with us to arrange a time.
What if I'm not in Auckland?
That's totally fine! This phase is 100% online. You'll get access to 24/7 chat, and personal Skype calls so we can answer any questions and provide support.
Should I still do this phase if I already have a company?
This program provides comprehensive personal development content, so we recommend people do this phase if they have an early stage company, and haven't been a founder before.
How much time do I need to spend doing the course content?
We recommend a minimum of 5 hours per week. The more you put in, the more you get out.
Will I be able to fit this around my full-time job?
This is a flexible online course designed to be adaptable to each individuals commitments. You choose the best time to work on the content yourself and we check in to keep you accountable and on track.
Is this the right time to start?
If not now, then when? There will never be a perfect time, the power to create your own freedom lies entirely with you! As we say at Mum's Garage... make the most of your existence.